FLAT PRINTING
Flat (digital) printing is ideal for printing artwork containing multiple colors. It's also a great way to produce small(er) runs.
There's a great range of paper to select from for flat printing. We like to print on the same cotton paper often used for letterpress printing.
Turnaround time: 1 to 2 weeks.
Note: Flat (digital) printing is different from offset printing. Offset printing is a process where inked artwork is transferred from a printing plate to a rubber roller then onto the printing surface. Ink is hand-mixed to match your Pantone or CMYK swatch. While cost and turnaround are generally more for offset than for flat, offset printing allows for consistent color and can be economical for large(r) quantity runs.
LETTERPRESS PRINTING
This is the oldest and a truly treasured form of printing. In this process, a raised printing plate is inked and then pressed into the paper, leaving behind a beautiful indentation of the artwork. It's a feast for the eyes and the fingers.
Our letterpress printed projects typically use 1 or 2 colors. Blind deboss — an impression without ink — is still considered a "color," as it also requires a run through the press. Using 3+ colors with letterpress printing is certainly possible and will incur additional costs (we suggest combining flat and letterpress printing to achieve additional colors).
Turnaround time: Kindly allow 2–4 weeks for this hands-on process.
FOIL STAMPING
In this process, a metallic or color foil is applied to the printing surface using a heated die of the artwork.
Foil stamping creates a shiny, metallic effect (think gold or silver, copper or holographic, or color), as well as opaque, matte color over medium-dark printing surfaces (such as white foil on chipboard, or color foil on dark paper).
Turnaround time: Please allow 2–4 weeks for this printing process, too.
RUBBER STAMPING
Whether it be for the whole invitation set or simply the return address, the artwork is stamped by hand, piece by piece. Each card is unique and has a bit of wabi-sabi.
For color, we'll select an ink that best matches or complements a color from your project or from a sample you provide. Please limit size to 5" x 7".
Turnaround time: 1–2 weeks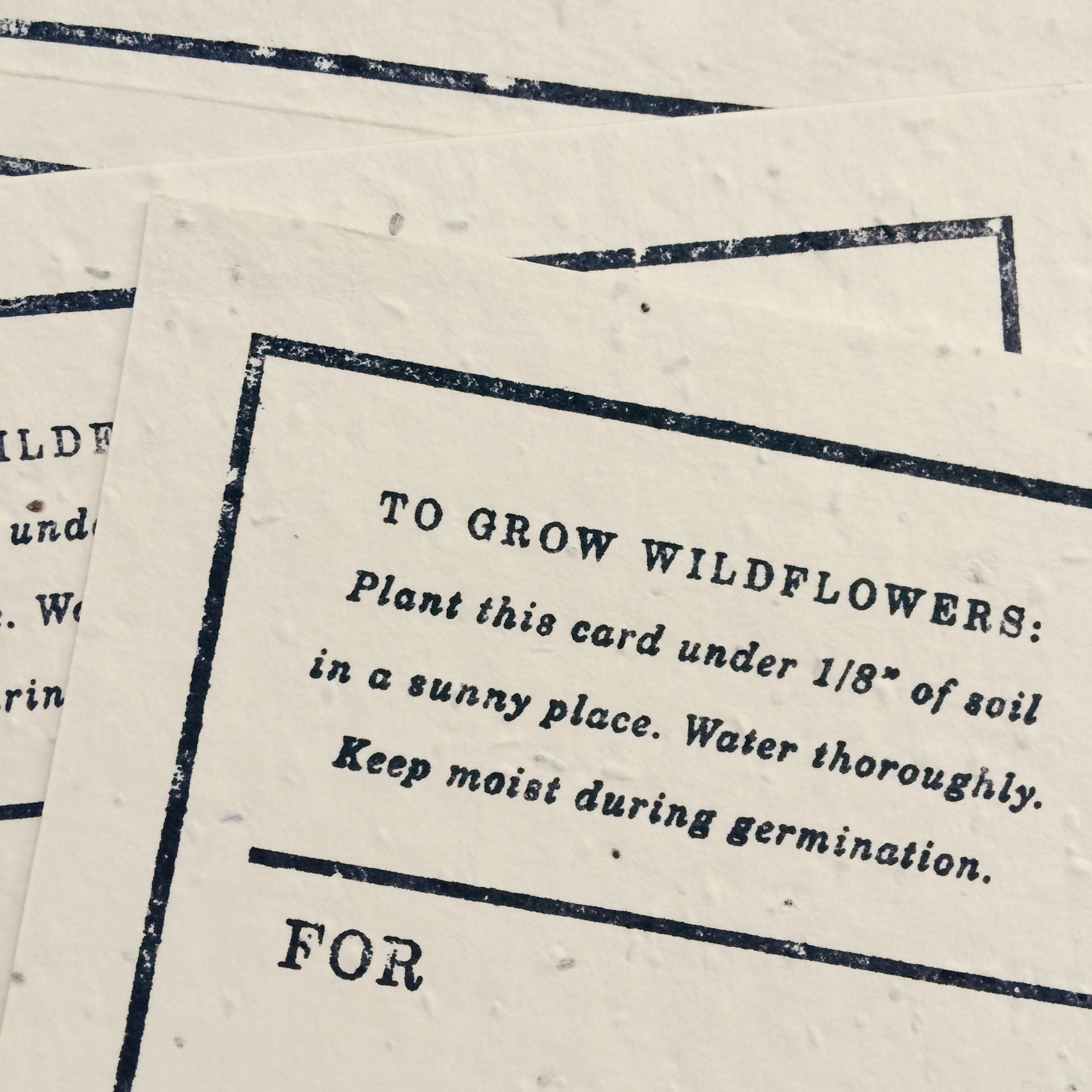 Projects may involve only a single type of print method but typically they incorporate a bit of everything! We can discuss how to combine different print methods across all your pieces (i.e. foil invitation + letterpress RSVP + flat insert) or layer multiple methods within each piece (i.e. an invitation with letterpress printed text + flat printed illustration).
If you're interested in other forms of printing—i.e. silkscreening, risograph, embossing, engraving—let us know.
ILLUSTRATIVE DETAILS
Consider incorporating artwork as the envelope liner or as a backing to your card.
EDGE PAINT
The edges of your extra-thick cards are a nice, unexpected place to add a hint (or pop!) of color.
TYING IT TOGETHER
Present the pieces of your invitation all wrapped and fitting snugly in their envelope. For tying, possibilities include colorful cotton or silk ribbon, twill tape, or jute twine. Or we can design a printed paper band to wrap around your cards.
ADDRESSES
For addressing your envelopes, we can design the addresses to correspond with your invitation and flat print directly onto the envelopes. Of course, we encourage handwritten/calligraphed addresses. Past collaborations include The Grits, Miss Multee, and Calligraphy by Katrina—each offers incredible work that ranges from modern to traditional. We're also open to connect with another calligrapher of your choosing.
Possibilities for your return address may include letterpress printing, flat printing, embossing, foil, or rubber stamping (the custom rubber stamp would be yours to keep).
As you gather your guests and addresses to submit to us (or to the calligrapher), please follow this format.

POSTAGE
Whether it be vintage postage, current postage, or a combination of both, we're happy to advise on what to choose!
Things to keep in mind:
We recommend ordering postage a few weeks ahead of your planned delivery. This is especially important for vintage postage, but goes for current postage as well. The postage you're looking for may not be readily available at the post office, and order processing through USPS may take a couple weeks.
When using vintage postage, their value may only be applied if they are not yet canceled (clear of any postmarks). Canceled postage is not usable on its own, but may be used only if supplemented with current postage or other vintage postage not yet canceled.
Remember to include postage for your RSVPs: First-Class postage on return envelopes, or postcard-rate postage on RSVP postcards.
How do you plan to have the envelopes addressed? When using multiple pieces of postage, remember to coordinate their layout on the envelope with the amount of space required for addressing.

HAND CANCELING & SPECIAL POSTMARKS
Canceling refers to the marking applied across postage stamps to prevent their reuse. We suggest having your invitations hand canceled at the post office, and we recommend it especially if your invitations have any sort of bulk (i.e. a wax seal, a tied ribbon) or to be sure your envelopes are not damaged by the typical process of machine-canceling. Check with your local post office to see if they offer hand canceling. The service is generally free, but there may be a charge if the post office is busy (try to go during their slow hours!).
Speaking of canceling, you might be interested in having your postage canceled with a special location postmark such as Lovely, KY or Bliss, NY! Additional details are available here.